Mental Health & Wellness Center
Past Events
2021-2022
Building Healthy Relationships Webinar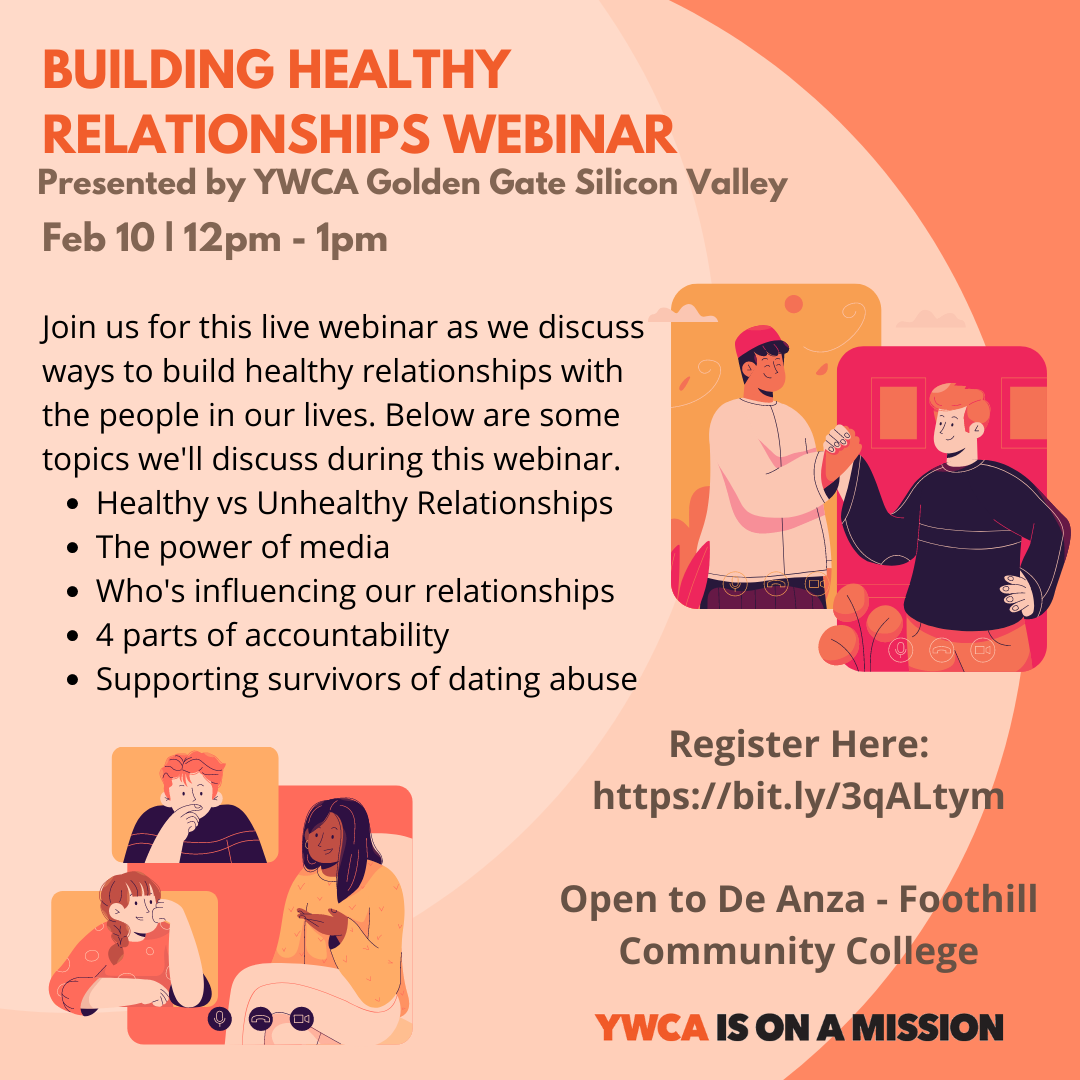 Presented by YWCA Golden Gate Silicon Valley on February 10, 2022
Noon - 1 p.m.
Open to all at De Anza and Foothill College
Join us for this live webinar as we discuss ways to build healthy relationships with the people in our lives. Below are some topics we'll discuss during this webinar.
Healthy vs Unhealthy Relationships
The power of media
Who's influencing our relationships
4 parts of accountability
Supporting survivors of dating abuse
Movies for Mental Health
Thursday, March 17, 2022
11:30 a.m.-1:30 p.m.
Option to join anonymously
Please register in advance
Movies for Mental Health is an opportunity to connect with ourselves and others through short films about mental health. This event is opened for students and employees at De Anza and Foothill colleges. Please register in advance to receive the link. Every Mental Health event will have a new link to register.
For accessibility-related accommodations or questions please email alexr@artwithimpact.org
Need Support?

We're Here to Help!
Mental Health & Wellness Center

650.949.7910
Bldg 2100, Office 2120 Campus Center, Lower Level (next to Health Center)

Fall Hours–In Person
Monday–Thursday: 8 a.m.–5 p.m.
Friday: 8 a.m.–3 p.m.
---
Winter Recess Hours Dec. 21 – Jan 5
Mon. – Thurs. 8 a.m. – 5 p.m.
Fri. 8 a.m. – 3 p.m.
---
Winter Hours Starting Jan. 8 – In Person
Mon. – Thurs. 8 a.m. – 5 p.m.
Fri. 8 a.m. – 3 p.m.
---
HOLIDAYS & EXCEPTIONS
Nov. 10: Veteran's Day
Nov. 23–24: Thanksgiving Recess
Dec. 22: Christmas Eve
Dec.25: Christmas Day
Dec.26: Day After Christmas
Dec. 27: December Holiday #1
Dec.28: December Holiday #2
Dec.29: New Year's Eve
Jan. 1: New Year's Day
Jan. 15: Martin Luther King, Jr. Day
Feb. 16: Lincoln's Day
Feb. 19: Washington's Day
Mental Health & Wellness Center Open Obove Hours
Dec. 16 —Jan. 8 (Virtual Only)
We're Hiring Student Wellness Ambassadors
Learn Stress Management Skills – Take CNSL 72
Earn 3 CSU Transferable Units, Too! Enroll in CNSL 72: Stress, Wellness & Coping, offered fall, winter and spring.

Follow Us on Instagram
| | | |
| --- | --- | --- |
| | | Stay up to date with our Wellness Ambassadors. Reach out with questions, get tips for coping, and learn about upcoming events. |
Top